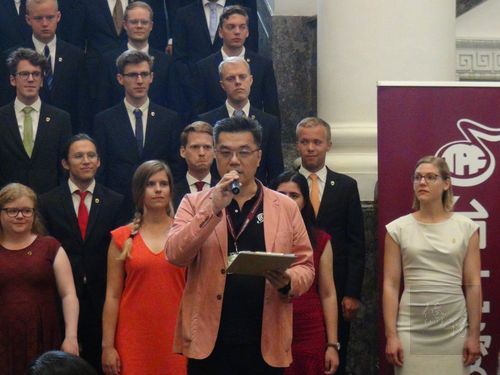 Choral festival to present world class music: organizer
Taipei, July 26 (CNA) An annual international choral festival based in Taipei will hold 27 concerts across the country, including performances from five foreign choirs, to give Taiwanese the chance to enjoy world class choir music, the organizer said Friday.
"People will not need to leave the country to be able to enjoy music from world class international choir groups," said Ferdinand Ting, executive director of the Taipei International Choral Festival (TICF), at the festival's opening ceremony Friday.
The five choirs from abroad are Kammerchor Saarbrucken from Germany, UT Insieme Vocale-Consonante from Italy, Mandaue Children and Youth Chorus from the Philippines, The Chinese University of Hong Kong Chorus, and Allmanna Sangen from Sweden, Ting said.
Of the 27 concerts, eight will be held at the National Concert Hall in Taipei starting Sunday, and the first will be one of Austrian composer Franz Joseph Haydn's masterpieces, Die Schöpfung Hob. XXI: 2, Ting said.
The piece will be led by Latvian conductor Janis Liepins.
The other concerts will include a touring concert series taking performing choir groups to other parts of the country, including Yunlin on June 30, Pingtung on June 31, Hsinchu City on Aug. 1, and Tainan on Aug. 2.
In addition, there will be 25 domestic choirs that will bring the total number of singers participating in the festival to more than 1,000, Ting said.
During the TICF, the second edition of the Taipei International Choral Competition (TICC) will be held from July 30 to Aug. 2, with 21 amateur choirs consisting of 900 singers choirs competing in eight categories, Ting said.
Meanwhile, Liepins, who is also on the jury of the TICC, urged the TICC contestants to perform their best despite the pressure.
"I always ask the participants to try and do their best. I know it's difficult because it's a lot of stress to perform in a competition but I wish for them to perform on the highest level they can," he said.
The TICF was started in 1996 and was held once every two years until 2008, when it become an annual event, Ting said. It is being held for the 19th time this year and will run until Aug. 4. 
相關連結
---
---
---